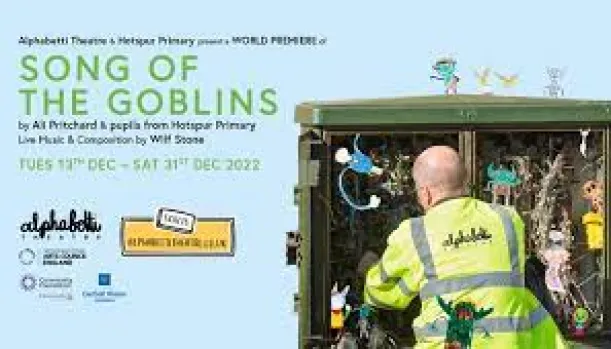 Song of the Goblin 13th - 31st December
Saturday 31 December, 13:00
Showings at 1pm and 6pm.

A fantastical family adventure, asking the question, "Who lives in those little green metal boxes at the end of the street?" They're everywhere. You must have seen them. At the bottom of most paths, sometimes black, sometimes grey. They say they're just homes for telephone wires. But if you sit next to them for long enough you can hear voices and sometimes singing...

Song of The Goblins has been co-created by an award-winning professional creative team and pupils from Hotspur Primary School in Newcastle. The pupils have co-written the script, co-composed the music, co-designed and co-built the set, and much more!
All details correct at time of press. For up-to-date information, contact the organiser or venue direct.
We've rounded up the freshest club nights, festivals, arts and comedy events in the North East.
Want to add your event here, and have it mentioned to our audience of 7,000 listeners across the North East? Just decide if you want a Budget Listing, or a Premium Listing.
What is Frisk Radio?
Frisk Radio is the freshest station for the North East & beyond, playing our unique mix of Fresh Cuts and Flashbacks!
Listen to Frisk Radio anywhere...
Get the App... Listen with a tap!
Or on the following platforms...