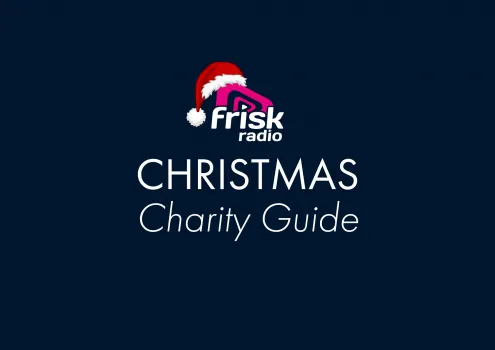 CHRISTMAS CHARITY GUIDE
Sunday 25 December, 09:00
There are so many wonderful charities across the North East, with many of them gearing up for Christmas and how they can support the communities they serve. Here are a few ways you can consider getting involved. If you know of any more, then make sure you let us know so we can add them to the list! -------------------------------------------------------------- ** THE FISH QUAY HUB ** The Fish Quay Hub is an events and fundraising venue open to the local community, raising funds in support of North East Homeless.They are based in North Shields on Northumberland Street. This Christmas they are hoping for donations to support their much needed work: 1 - You can donate items towards their Christmas Stockings: these are given out to their street friends on Xmas eve at their big Xmas meal at Central Station. This includes: Wolly hat & Gloves, Power Bank, Re-usable Cup, Note books & Pen, Selection Box, Blank stamped Christmas Card, Thermal Socks, Lip Balm, Torch, Hand warmer. 2 - Donations are needed for their social supermarket. Anyone is welcome and you come for what you need, and leave only what you can. Their wish list includes: Ketchup, mayo, salad cream, brown sauce, sugar, hot chocolate, coffee, juice, milk, oils, pasta, curry sauces, tuna, tinned hot dogs, bread, butter, jam, cheese, eggs, yogurts, crisps, biscuits. Plus fridge & freezer items such as pizzas, pies, mac & cheese, shepherd's pie & fish fingers. -------------------------------------------------------------- ** FEEDING FAMILIES ** Feeding Families is a charity based in the North East that offers support, hope and security to those experiencing food poverty. This Christmas you can get involved by either: 1 - Donating a "Matched Christmas Dinner", delivering the ingredients needed for a Christmas dinner to a family. 2 - You can donate a "Vitrual Hamper" - Feeding Families will make up a box in your name and put a label on to say who donated it. 3 - You can give food and toiletries, in any quantity, and these are made up into Christmas Food Boxes for distribution by local charities and schools to the most vulnerable people. You can drop items off at Home Bargains shops, Feeding Families Blaydon Packing Centre, or Fishburn Youth & Community Centre. More info and directions on their website. https://feedingfamilies.org.uk/ -------------------------------------------------------------- ** SUNDERLAND COMMUNITY SOUP KITCHEN ** This is a great one to get the kids involved with. Create a Christmas Goodie box filled with tasty treats that can be given to their guests. Shoeboxes are perfect size to carry and everyone loves chocolates and sweet stuff around Christmas. Every box will be appreciated and enjoyed. They also accept any donations of non-perishable items too. The Christmas goodie boxes need to be delivered by 14th December. Unit 3 Addison Street Hendon Sunderland SR2 8BL Any Wednesday up to December 9am - 6pm -------------------------------------------------------------- ** NORAHS NORTH POLE ** This great charity was set up in memory of the lovely Norah, who lived by the motto "It's nice to be nice". You can help them fill Santa sacks with gifts for children and families most in need in the North East this Christmas. Together let's spread a little Christmas kindness. Each year they find that they lack in gifts for babies and teenagers, so perhaps keep that in mind when shopping. They also really appreciate warm items donations such as pyjamas, dressing gowns, hats, gloves, scarves etc. Some of the children and families they support lack adequate heating facilities and therefore they try to include a warm item in each Santa sack. All items must be brand new. There are drop off points all over the North East, that can all be found on their Facebook page and website www.norashnorthpole.co.uk. You can also donate via their amazon wish list. -------------------------------------------------------------- ** BOOKS AND BREAD FOR KENYA ** This non profit making charity is based in Chester-Le-Street. They support two orphanages, a rescue centre, a hospital, three Kenyan villages and many individuals in desperate need. This year they are selling unique Christmas cards that have been especially designed for the charity. All profits go to the causes that they work with. Their shop is in Chester-Le-Street, 144 Front Street. Open 10-4, Monday-Saturday. -------------------------------------------------------------- ** THE SALVATION ARMY ** Every year the Salvation Army run a fantastic Christmas Present Appeal, collecting donated presents until mid December. Simply find your local Salvation army drop off point via their website and donate brand new toys. They welcome donations of gifts for newborn children to around age 16. -------------------------------------------------------------- ** DRINKS EXPRESS ** Drinks Express in West Denton are supporting their local community by creating food bags, which have food essentials in to help anyone in need. There are no criteria to be eligible everyone in need is welcome. All you have to do is pop into Drinks Express in West Denton, and pick up a bag from under the Christmas Tree. -------------------------------------------------------------- ** FEED A FRIEND FOR A FIVER ** "NE Offers" and "The peoples kitchen" have united to work together in order to raise much needed funds for their "Feed a friend for a Fiver Campaign" in Newcastle. When you donate just £5 to the 'Feed a Friend for a Fiver' campaign, you can gift a Friend with a warm three-course Christmas Day meal, supporting a great local charity that is built up of amazing volunteers. Search for "NE Offers" or "The peoples Kitchen" on facebook to find out more, including the link to donate to this very worth cause.
All details correct at time of press. For up-to-date information, contact the organiser or venue direct.
We've rounded up the freshest club nights, festivals, arts and comedy events in the North East.
Want to add your event here, and have it mentioned to our audience of 7,000 listeners across the North East? Just decide if you want a Budget Listing, or a Premium Listing.
What is Frisk Radio?
Frisk Radio is the freshest station for the North East & beyond, playing our unique mix of Fresh Cuts and Flashbacks!
Listen to Frisk Radio anywhere...
Get the App... Listen with a tap!
Or on the following platforms...